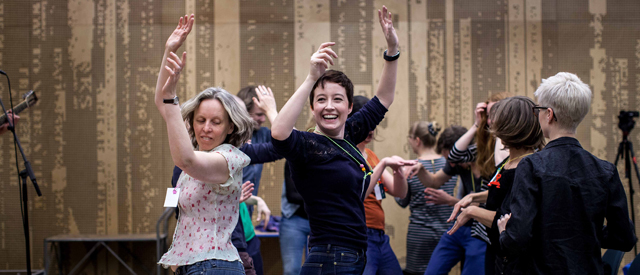 Get your ticket for CounterPlay '17 NOW - Early Bird ends on February 20th! For the fourth time, we're summoning the most playful community from all around the world to meet, talk, reflect and play at Dokk1, Aarhus, Denmark, on March 30th – April 1st, 2017.
CounterPlay '17
(N.B.: this page is for paying by invoice (including EAN) only. If you want to pay by card, go to this page)
Play makes life more fun and enjoyable, and playful attitudes enable us to engage in collective collaborations and act with agency in a complex, globalized world.
How can play facilitate a stronger sense of agency and become a catalyst of adaptability and change? In what ways can play inspire and encourage us to question the status quo and challenge the rules? When will our innate playfulness spark our imagination and curiosity, and will it enable us to see that the world could be transformed into something else?
With a program more diverse than ever, you will have the opportunity to explore how to learn, work and live more playfully.
The festival builds on a firm belief in the value of cross-pollination, and in deploying a kaleidoscopic perspective on play and playfulness. We'll have contributions from research and practice, and we'll be presenting a wide range of playful formats and activities,.
Thursday, March 30th, and Friday, March 31st, are full of scheduled activities (play sessions, workshops, talks, debates, music, dance and more) with a festival dinner Thursday evening.
Saturday, April 1st, is dedicated to our "Play Summit" unconference, which is for more loosely structured play, reflection and discussion as well as looking ahead: how can we make the world more playful together?
Early Bird ends on February 20th!


Registration fees
| Ticket Type | Includes | Price DKK | Price € |
| --- | --- | --- | --- |
| Full Access | Thursday-Saturday | DKK 2200,- | € 295,- |
| Two Days of Play | Thursday-Friday | DKK 2000,- | € 270,- |
| Play Summit | Saturday | DKK 500,- | € 65,- |
| Full Access - Students (without dinner) | Thursday-Saturday | DKK 600,- | € 80,- |
| Full Access - Students (with dinner) | Thursday-Saturday | DKK 900,- | € 120,- |
| Playful Library Track (Friday March 30th) | Friday | DKK 400,- | € 55,- |
What is included?
With a full access ticket, you get:
Three full days with access to 50+ sessions with amazing people from around the world, including keynotes, workshops and playful events, interactive play spaces, networking, full catering during the festival (lunch each day, fruit, cake, coffee/tea, water), festival dinner Thursday evening etc.
You can also buy a ticket for the first two days (Thursday and Friday) or the Play Summit Unconference on Saturday, but we recommend joining us for the whole thing!
More than anything, we hope you will see your participation as an invaluable investment in the growing playful community for the benefit of us all. This is where you really make a difference.
What is CounterPlay?
CounterPlay is an NGO that organizes the annual festival and related initiatives to facilitate conversations about play and support a movement towards a more playful society. We believe playfulness can help us live better lives together in this complex world, so we create spaces and opportunities for all of us to learn how.